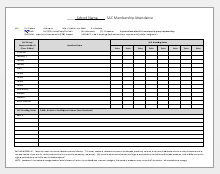 SAC Membership Attendance

Sample template: SAC attendance form


Opinions & Research on "Balanced SAC"


2007 Auditor General Reports: SAC members,SI Funds, Open Gov't


2007 & 2004 AG Report non-compliance re: SAC, SI funds & Recognition funds


DOE SAC Frequently Asked Questions
In my years of experience, it has come to my attention is that many meetings and, subsequently, votes are held without a quorum or a proper SAC membership composition. We are all volunteering our time and often are a bit "out of our element" as we take on duties of SAC chair or secretary.
Many meetings have various participants or programs being introduced or evaluated that may confuse who is actually a member and who is not...or how many meetings someone has missed or even bothered to attend even ONE meeting! Seriously! They are on the membership roster that is sent to districts, the intent may be honest but it never materializes.
I have created a template that is so easy to add rows for members or delete rows for individual SACs. It is easy for a secretary to check mark who is present or who is absent with this form and just add names of guests below the master table.
This is not meant to divide participation in SAC but to adhere to the letter of the law which requires a balanced SAC, a quorum to be kept and that we, SAC members, vote on our SIP (school improvement plan) and our School Improvement Funds.